King Salman Visiting Indonesia in March 2017:
Another Window to Promote Indonesia Worldwide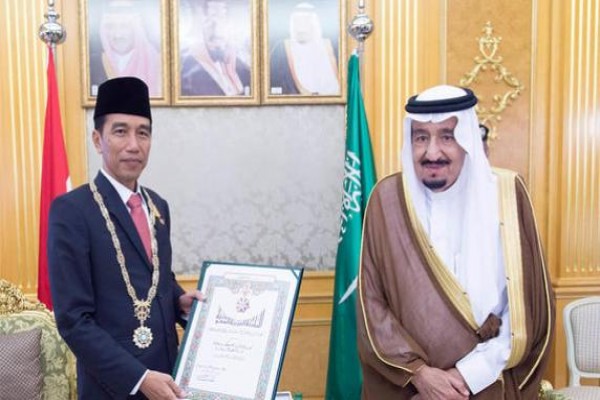 The King of Saudi Arabia, King Salman bin Abdulaziz Al Saud is visiting Indonesia for a state visit from 1 – 9 March 2017. The King Salman journey and its preparation have been occupied headlines by many international as well as national printed media. Newspapers, TV stations and media online were continually presenting the news, especially the hectic preparation carried out by Indonesia officers, police and military as well as other agencies to welcome the King.
It is reasonable that this event shall be one of the great events occur this year for us, Indonesia, since King Salman is visiting Indonesia with 800 delegates, including ministries and 25 princes and at least 100 security personnel with the total of about 1,500 people. Moreover, the media also highlighted the carriage of the King and team which approximately reach around 459 tons of luggage including two Mercedes-Benz S600 limousines and two electric elevators.
On the other hand, our State has been performing big efforts to give the best for this event. At least thousands of police officers and armies shall be deployed to maintain security and hundreds of Jakarta Air Service (JAS) staffs, the appointed carrier service, which are already ready at the Halim Perdanakusuma Airport in East Jakarta as well as at the Ngurah Rai International in Denpasar, Bali. The event also affects the sub-national governments of Bali Province and Denpasar City; they are very busy to make any preparation for welcoming the Saudi Group.  Yes, we mentioned Bali because the group shall also visit Bali for six days starting from 4 March and will leave on 9 March for relaxation.
King Salman Visiting Bali
Some topics of the discussion during the meeting are related to investment planning, security, pilgrim quotas and any other topics between these two countries. Despite these topics, one issue that is interesting for us is the enthusiasm of King Salman and the group to visit Bali Island.
For a nine-day visit, the group shall spend 6 days in Denpasar, Bali, staying longer than in Great Jakarta. Moreover, this is also going to be a historic event due to for the first time in 46 years that the Monarch's visit to South-East Asia including Indonesia since ascending the throne in 2015.
We are delighted and optimistic that the visit of King Salman to Indonesia shall develop economic links between the two nations. At least, pertaining to the tourism sector, this event shall be another window to promote Indonesia to the world, especially for middle-east visitors as well as travelers from all over the world to explore Indonesia. We wish Indonesia shall be one of travel destination for more travelers. Reporters and news anchors over the world shall promote Indonesia directly and/or directly through their news.
We are very proud of the efforts and hard work of our Government, led by our President Mr. Joko Widodo and his cabinet to improve the economic development in Indonesia. Moreover, the trust that the Government enhanced has created better investment climate in our State. Moody's Investors Service has revised the outlook on Indonesia's Government ratings to positive from stable. And we also wish that the ability of Balinese people to sell their sources as one of the best tourism destinations in the world could be infected other regions to put more efforts to improve the tourism infrastructure and promote their regions. May the blessing of God are abundantly given for Indonesia.